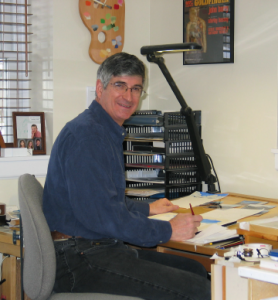 Pennsylvania resident Gary Embich, opened his own business in 2005 and from his home studio paints wildlife, landscapes, still-lifes and portraits. He also teaches classes in drawing, watercolor and other art skills.
"When I teach, I like to teach students of all ages how to observe the world around them.  I am in awe of God's creation, and I seek to share that sense of awe through my landscape and wildlife paintings."
Gary is a 1968 graduate of The Art Institute of Pittsburgh with a degree in advertising and illustration. He worked with the design group of American Can Company in Easton, PA, served with the U.S. Army in Korea, and resumed his art career at American Can's Dixie Division, eventually becoming a manager in the graphics department of Georgia Pacific Corporation through 2004.
Gary is an official Smokey Bear licensee of the U.S. Forest Service.
Gary is a signature member of the Pennsylvania Watercolor Society and the Baltimore Watercolor Society, and a member of both the Pocono Arts Council and Pocono Mountains Art Group.
Gary lives in Saylorsburg with his wife Nancy of 51 years, and two cats.  They travel all over the country where Nancy does the photography for Gary's paintings.
---